I have been catching up on reading the blogs I follow and $900Facebook Pony and HelloMyOlivia just had a blog hop of 30 things you may not know about me. I thought it looked fun so I thought I would join in. I tried to make them as little about horses as possible. Lol
I have 3 nephews. They are 18, 17, and 9 and they amaze me every day!
2. I grew up Catholic and while I do not attend church as regularly as I should I still talk to God every day and try to be a good Christian.
3. I love to travel! I am very fortunate with my job that I get to visit some beautiful places that I would never have gone on my own. I am getting ready for my third trip to China in 2 weeks (Shanghai this time but have also been to Beijing and Hong Kong). My longest trip was 3 weeks in Europe (Rome, Budapest, Vienna, and Prague). I have also been to a few places in England and Scotland as well as within the US. An Alaskan cruise is high on my bucket list!
4. I have always wanted to live in a different country for ~6 months to a year.
5. I am petrified to live far from my family and friends even for a short time. Lol.
6. One of my favorite things to do when visiting another country is to go into a grocery store.
7. I have Hashimoto's disease. This makes life a little difficult at times and losing weight is hard but I deal.
8. I have 3 tattoos but I have been tattooed 4 times. My first tattoo was a butterfly on the back of my neck when I was 21. The artist talked me out of the butterfly that I wanted. Instead he gave me a super simple one. I found out years later that he just sucked and that is why he went simple and why the color faded so quickly. I got a better butterfly over it like I wanted in the first place. 
9. I am a huge Potterphile!!!! I love Harry Potter (although Ron is my favorite)! I have been to multiple Pottercons and I have waited in line to get the midnight release of the Harry Potter books and movies! I have also gone to Chicago for a weekend just to see the temporary exhibit they had in the Chicago Science Museum. And yes, if I am ever in England again I WILL go to Platform 9 3/4!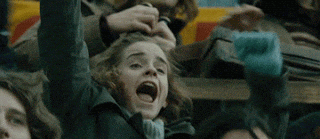 Me every time a new book or movie came out!
10. I used to show western pleasure. That is a dirty dark secret in my barn. Lol
11. Sushi is my favorite food! But I am a snob about it. It has to be good sushi not grocery store sushi! EWWWWWWWW!!!!
12. I will try almost anything once. That goes for food or jumping off a cliff although I have gotten more cautious about some things in my old age.
13. I used to lie to my trainer at horse shows and my friend would lie to her grandma that we were staying in each other's trailer/camper but we would sneak into the show arena with our other friends to do stupid things like play football, chat, and/or play music/sing (its not as corny as it sounds my friend David was a really good guitar player).
14. Our senior year one of the facilities that we used to show at a lot put a sign above it that says "mommas don't let your babies grow up to be cowboys" cause David and I used to seem it all the time. Turns out we weren't so sneaky but our parents and trainers let it go because we really didn't do anything too bad.
15. I love mud! One of the most fun things I have ever done was to run in a Mud Factor 5k obstacle course. I have also done multiple mud volleyball tournaments. We even won one of them! I am all about diving in!
16. How do you follow up saying that you love mud……. By saying the complete opposite, I was once in a fashion show. Lol. It was based off the Sex and the City episode where they had professional models and then a few regular customers. I got to wear 3 different dresses. It was so much fun!
17. I was voted Most Likely to Come Back and Prove All My Teachers Wrong and Most Likely to Become The Next SNL Cheerleader my senior year of high school. (No I was not an actual cheerleader.)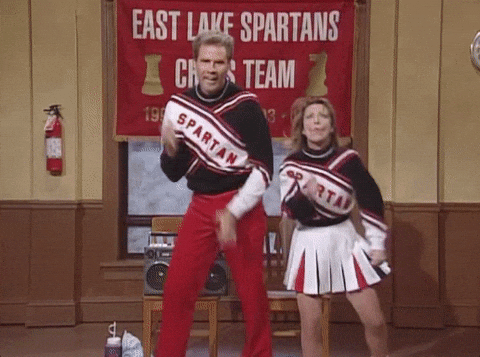 18. I graduated from the University of Michigan where in my junior and senior year I taught an Organic Chemistry lab there. I loved it!! The only problem I had was with a few students who were older than me and had an issue with me being younger. I spent my 21st birthday administering and then grading over 800 exams!
19. I am a fanatic about theme parks! I could live in Magic Kingdom, Animal Kingdom, Universal, etc! I love feeling like I am in a new and magical place. I am happy right now just thinking of walking through Frontier Land in Disney. I can't wait to go to Universal to see the newer Harry Potter land and ride the Hogwarts Express this fall!!!!!!
20. The book I have read the most in my life is The Outsiders. I have seriously read the whole thing in 1 day. I do not even know how many times I have read it. I still say "Let's do it for Johnny man! Let's do it for Johnny!" and "Stay golden" but I get weird looks a lot for it.
21. I am a huge nerd! I love doing scavenger hunts, escape rooms, and murder mystery games and yes even dressing up in the character. In fact I am such a nerd that at one of the murder mystery games my bestie and I went to we impressed the  actors who organized it so much with our detailed FULL background on the murder,victim, and murderer that they said they were going to make it part of their act from then on.
22. In high school basketball was my favorite sport (besides riding). It was the only contact sport for girls.
23. I cannot only fold my tongue in half but then in half again.
24. I had to take an art class in college and had a piece picked for a student art show. I cannot draw to save my life but I am ok with paint.
25. I am a slave driver on vacations. I have 2 friends who travel with me and think I am crazy but I can't help it I want to see everything! Plus I am not a chill on the beach kind of person. Thank God I have the best friends ever who deal with me.
26. I am really good at making tasty and fancy cakes and cupcakes but I don't do it very often. My kitchen is small and I am a perfectionist so it stresses me out to make them cause they MUST BE PERFECT!
27. I was mugged in Beijing but in a karma flip I was invited into a private mass service in the restricted area of St. Peter's Basilica when I was in Rome. It was so beautiful and such a blessing that I teared up.
28. I once sang the Star Spangled Banner before a horse show.
29. I truly believe in angels and know that I was saved by them at least twice in my life. Once as a kid I was caught out on a boat in the middle of the lake when 3 tornadoes hit the lake. My dad got my cousin and I on to land but in the time it took for him to get back to my mom my cousin and I lost them. All I remember is an arm pulling me into their house. A wonderful couple let us bunker with them until the storm let up and then helped us find my parents.  The 2nd time was in Boston when I was 22. Someone must have slipped something in my drink at a bar and was being walked out by 2 guys when some girl stopped them and took me to the bathroom. I distinctly remember her telling me that she told my friend Sarah to come to the bathroom. She stayed with me until Sarah came into the bathroom but Sarah said I  was alone and no one came to get her and could not explain why she came to the bathroom.
30. If I was independently wealthy I would be a substitute teacher cause I would have summers off to horse show, could set my own schedule if I wanted to work any day, and I enjoyed teaching in college. Since I wouldn't need the paycheck I would donate all of it to charity.